In a remarkable move to a historic location, McGrathNicol seized the opportunity to redefine their workspace. This transformation resulted in an award-winning design that seamlessly blends versatility, functionality, and aesthetic appeal.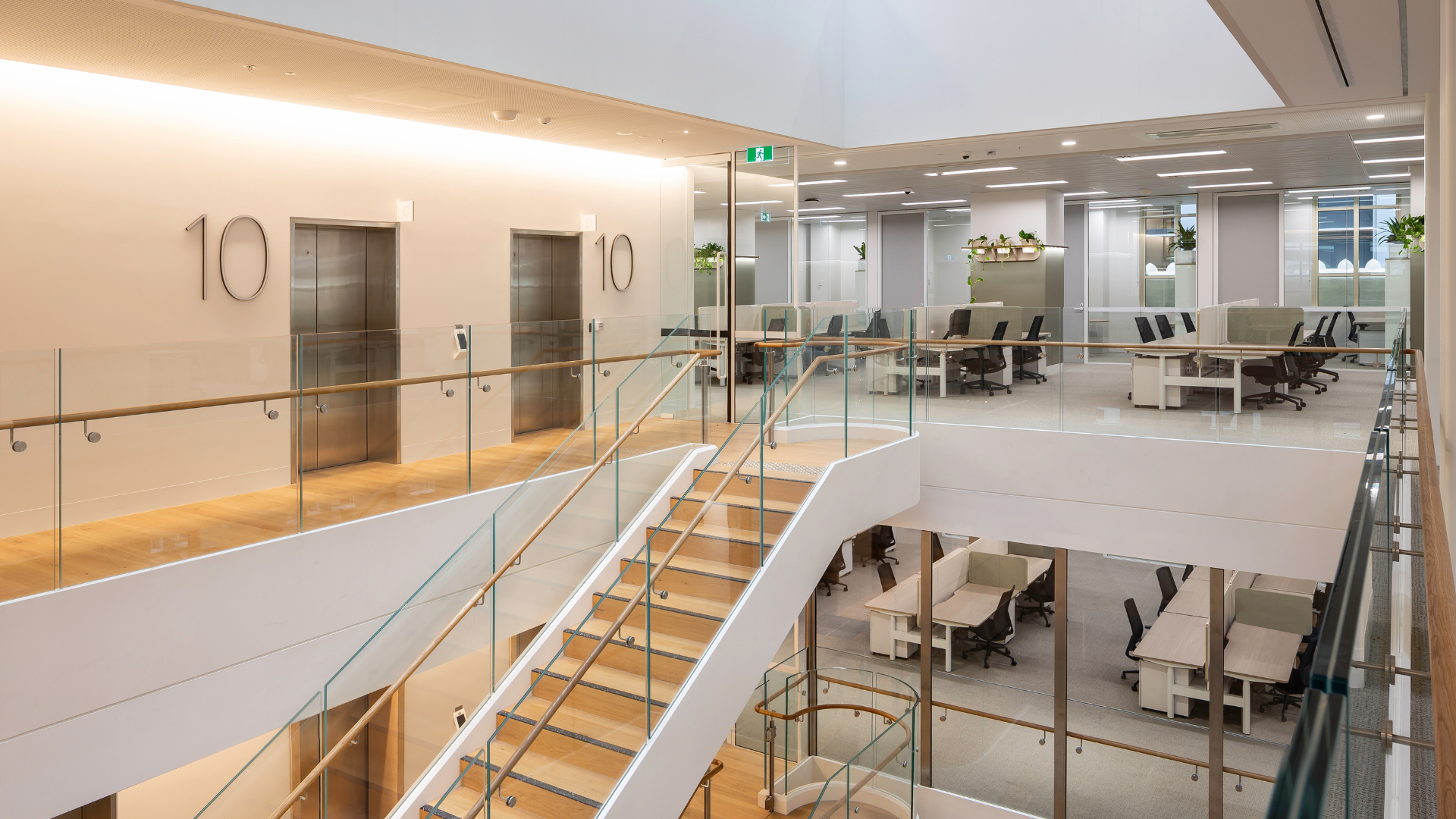 Challenge
A Historic Shift with Contemporary Flair
The decision to relocate marked a pivotal moment for McGrathNicol. Their vision was to create a workspace that would set a new standard for how they operate. Spanning four floors and 2,300 square meters across levels 9-12, this internal fitout for the advisory and restructuring firm skillfully merges modern upgrades with the preservation of original 1930s features.
The commitment to preserving history was a priority given the history of the building. Every effort was made by designers Wool + Hay and builder FDC Group to honour the building's rich heritage.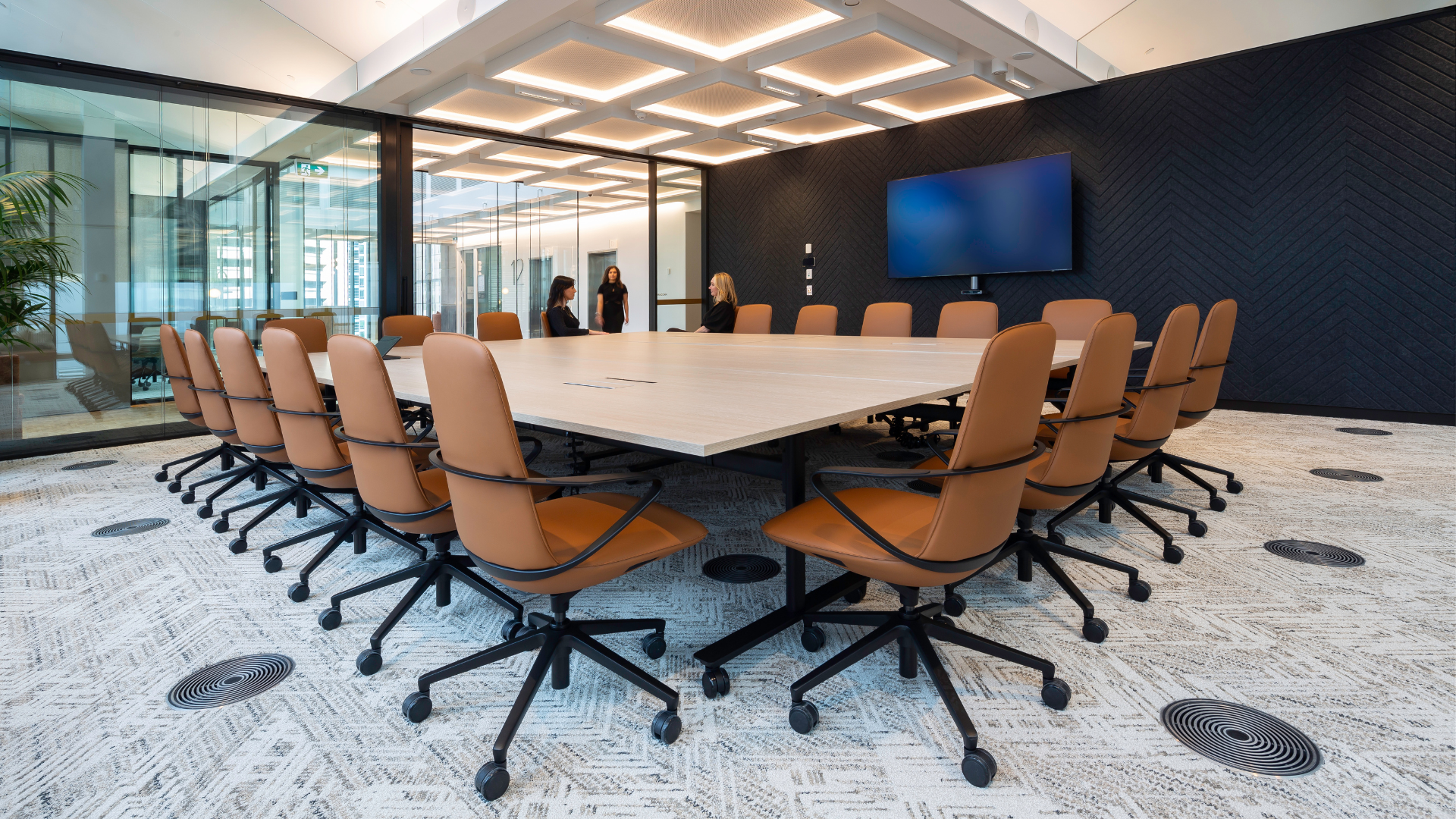 Solution
Contemporary Elegance
Yet, this workspace is not simply a museum of the past. It's a living, breathing testament to contemporary design. Open workspace areas, individual offices, small meeting rooms, tea points, wellness spaces, boardrooms, and a well-appointed kitchen form a cohesive whole. To honour the past and create a collaborative environment, we designed our top-tier workstations with flexible arrangements for both individual and group work. These workstations feature Orio screens, upholstered in Woven Image's Mura 908 with a subtle gold accent, seamlessly connecting the workstation's design to the historical essence of the space.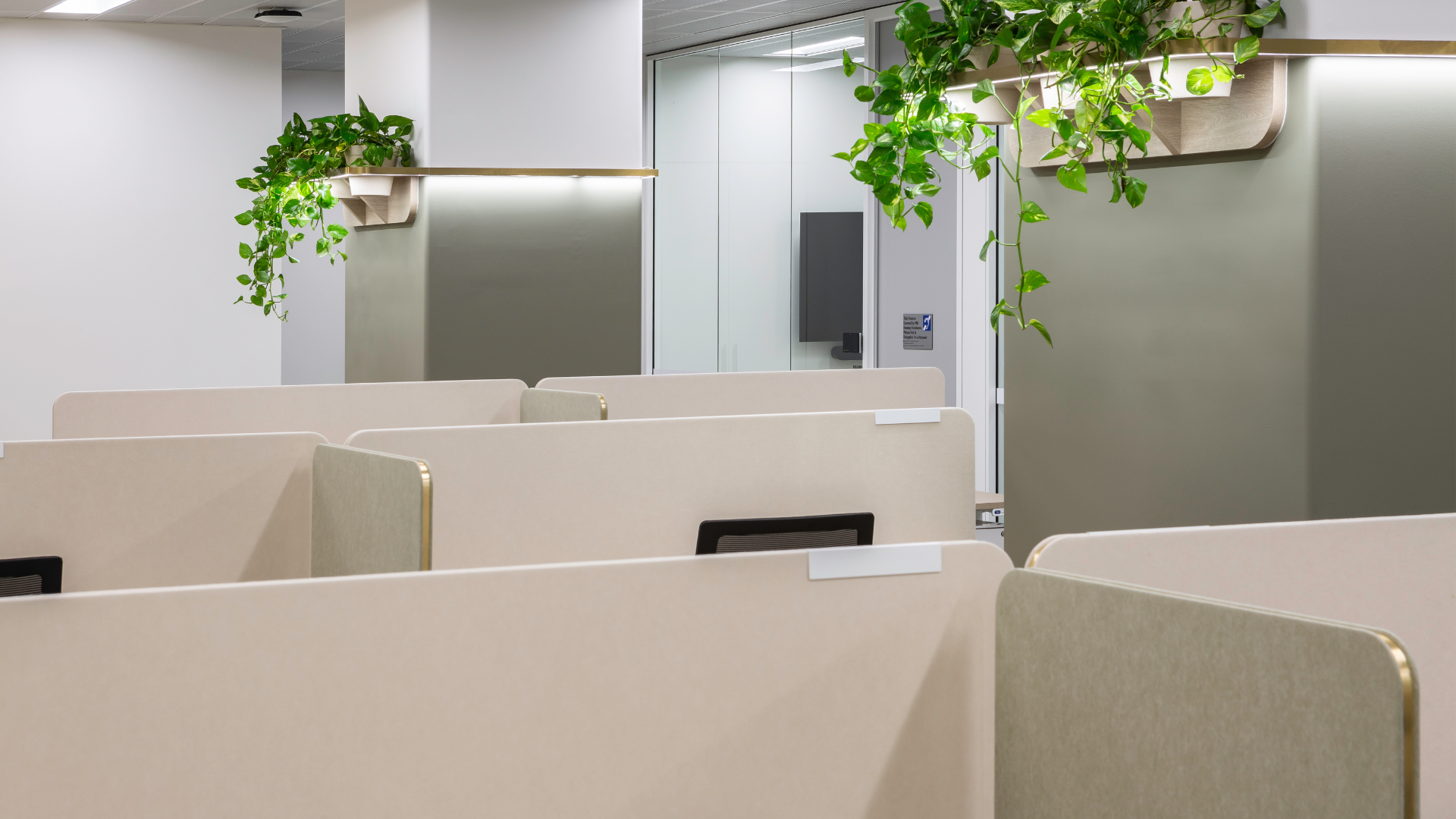 Challenge
Adding a Layer of Refinement
The Orio privacy screens emerged as indispensable elements in the McGrathNicol project, seamlessly enhancing the overall aesthetic and functionality of the workspace. With their unique gold inlay, the Orio screens not only provided a touch of sophistication but also served as elegant dividers, creating discrete zones within the open workspaces. Their strategic placement not only offered privacy where needed but also contributed to the overall harmonious blend of heritage and modernity. The screens acted as both practical partitions and stylish design elements, playing a key role in the success of the project by Wool + Hay, adding a layer of refinement to the versatile and collaborative work setting McGrathNicol envisioned.
Achievements
Celebrating success with McGrathNicol
This exceptional project, spanning four floors, marries the past and present with finesse. It is a testament to the vision and dedication of all parties involved in redefining their workspace. Most notably, Wool+Hay's commitment to preserving history while embracing modernity has earned them the Silver Award in the Better Future Design Awards, a well-deserved accolade.
Historic Integration with Modernity
The project impressively integrates modern upgrades with the preservation of original 1930s features, showcasing a thoughtful blend of historical charm and contemporary functionality. This fusion is evident in the choice of materials, design elements, and overall aesthetic, creating a workspace that honors its past while embracing the present.
Comprehensive Workspace Design
The design spans four floors and 2,300 square meters, covering a range of functional areas such as open workspaces, individual offices, meeting rooms, tea points, wellness spaces, boardrooms, and a well-appointed kitchen. This comprehensive approach ensures that the workspace caters to various needs, promoting a versatile and collaborative work environment.
Elegance in Privacy with Orio Screens
The Orio privacy screens played a pivotal role in the project, contributing to the workspace's overall sophistication. Their strategic placement not only provided discreet zones within the open workspaces but also added an extra layer of refinement, making them a standout feature in McGrathNicol's award-winning design.
Our Solutions
Solutions used in this project